Back to Newsroom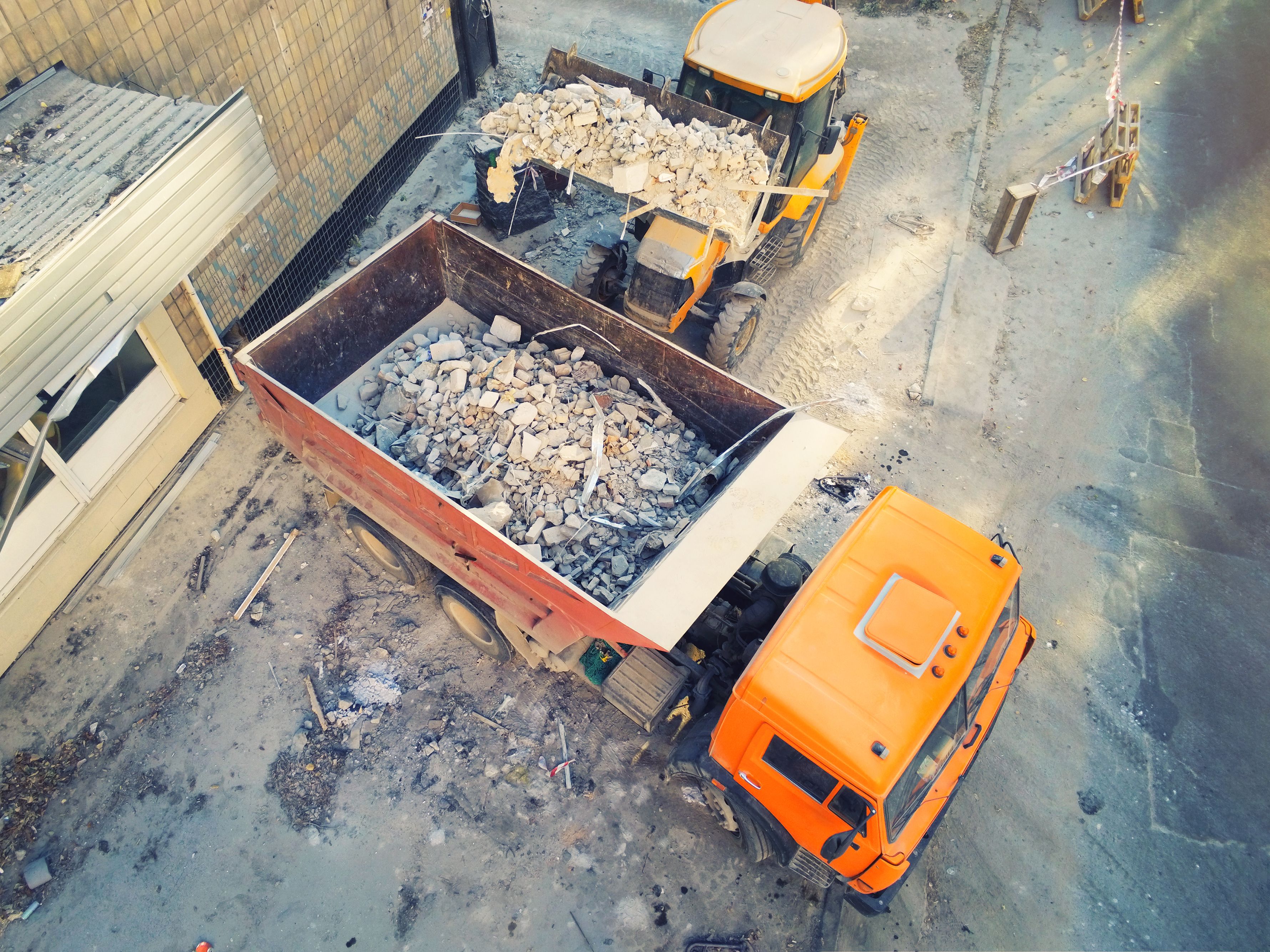 February 02, 2023
By Kelvin Tan
Achieving Cost-Efficiency in Construction: The Importance of Managing Materials and Waste
In the rapid economic resurgence since Covid-19, the opportunities in the construction market have risen just as quickly as the costs. The Building and Construction Authority (BCA) projects the construction output to increase between S$30 billion to S$33 billion in 2023, almost a 50% increase in output since lockdown caused operations to cease in 2020. With supply chains struggling to meet new demands and commodity prices reaching a 40-year high, construction is seeing overwhelmingly inflationary conditions, making it crucial for firms to take full control of project expenses.
Given that up to 30% of building materials delivered to a site end up as waste, having proper visibility across your projects' commodities management and fighting wastage on site is becoming increasingly pertinent.
Manual Tracking of Materials Leads to Inefficiency and Additional Costs
Managing construction materials has always been a tedious process; manually creating and updating schedules for thousands of individual components on a daily basis requires hours of work and is often hard to keep track of. Construction in countries like Singapore relies heavily on prefabrication processes prior to materials reaching a site, but with unreliable means of updating prefabrication statuses such as via messaging or email, updates on components are asynchronous and untimely, causing delays in arranging transport and assembly work.
Besides losing time, lack of visibility on components is one of the main causes of additional cost to a worksite. Transport timings are difficult to track manually, meaning that components can arrive unexpectedly early: requiring last minute storage, or arrive much later than planned; thus wasting countless hours of workers who were assigned to assembly work upon arrival of the components, both of which compound the cost of the project.
Digital Solutions for Real-Time Visibility and Synchronisation of Materials
By going digital, managing components is no longer a matter of manually entering data into Excel. Hubble's Fabrication Management System allows for real-time updating of component status via a simple scan of a mobile QR code, syncing data into a central tracking platform that automates the identification and tracking of individual precast components to more complex Prefabricated Prefinished Volumetric Construction (PPVC) modules, from prefabrication to delivery and installation. Production, delivery and installation progress is reported instantly on a Wall Chart model, where stakeholders can view the project's progress at breadth without needing to comb through communications for updates.

Image: wall chart of a project's components

Image: Fabrication dashboard showing production and installation progress
Hubble makes it possible to ensure that components arrive in the right place, at the right time, and in the right amount. In synchronising prefabrication completion and delivery with works on site and reducing logistic complexity, firms avoid incurring expensive storage fees due to overordering and damage to components that face weather damage due to prolonged storage. Manpower and storage can be assigned optimally, reducing waste, increasing efficiency and ultimately reducing cost.
Meeting Environmental Standards and Reducing Waste for Sustainable and Affordable Cities
Building smart, sustainable and most importantly affordable cities is becoming increasingly important to developers, making it imperative to effectively manage waste and cost in every project. As part of its mission towards achieving environmental goals, HDB, the leading property developer and owner in Singapore, has led the built environment industry by requiring all participating construction firms to contribute towards environmental sustainability through energy conservation and the 3Rs (reduce, re-use and recycle) approach to resource and waste management. To remain competitive to bid on such projects as they become more commonplace, construction firms will have to adapt quickly to these regulations by taking charge of environmental management
Proper environmental management ensures environmental goals are met throughout the value chain to keep building these affordable living spaces. In taking a deeper look at sustainability on a site, waste management is key - less waste means less unnecessary material purchased and less wasteful disposal of excess material. Waste management is also invariably tied to cost-reduction, and in conducting precise Environmental Management, firms also avoid excess costs, another step in the right direction towards beating inflation.
Digital Auditing and Reporting for Effective Environmental Management and Cost-Reduction
An intuitive construction management platform will provide you with comprehensive access to data that informs crucial decisions on project expenses and resource allocation. Hubble's latest Environmental Audit module allows firms to effectively monitor key sustainability factors through digital reports for Audits, Authority Visits and Non-Compliance. Reports can also be made on specific Sustainability KPIs that are customised by the firm, such as:

● Concrete wastage
● Diesel consumption
● Electric consumption
● Rebar wastage
● Wastage disposal
● Water consumption

In creating an Environmental Audit report, reporters are able to make Observations and submit images on areas of note, assign follow-ups and invite followers to keep updated on the status of the report. Audit Checklists provide all parties with a trackable list of requirements that either have met Environmental standards or require immediate rectification. Sustainability KPI reports allow contractors to report material consumption and wastage, where Hubble automatically computes the percentage of waste generated and compares it against the firm's preset KPI. By having a better understanding of the materials that are being used and being able to track their delivery, use, and return, contractors can reduce the amount of waste produced, as well as optimise their supply chains. This leads to more efficient use of resources, lower costs, and a more sustainable approach to construction.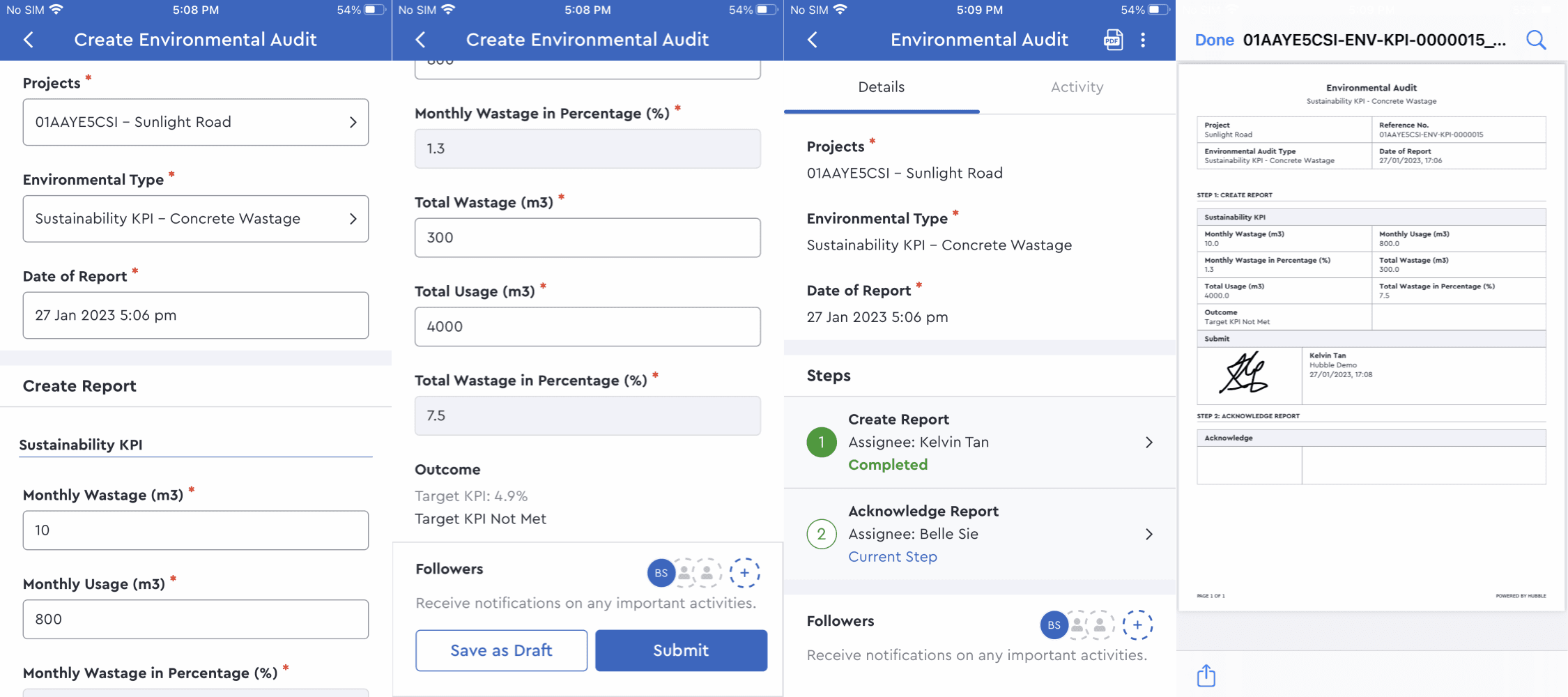 Image: Environmental Audit module featuring Sustainability KPI reporting
Reduce administrative work and paperwork and Save on Materials Costs with Invoice Factoring
An effective method for outsourcing your funding and receivables administration by using invoice factoring, the digital way from Hubble.Financial. Invoice factoring is a financing instrument that allows businesses to monetize their outstanding invoices immediately without having to wait for the payments from the customers. With Hubble.Financial, construction companies do not have to submit physical invoices or numerous supporting documents to get their funding as all these will be managed digitally. With advance cash, this can help the company purchase materials and pay for labor in a timely manner, leading to more efficient use of resources and less waste. Additionally, by providing a steady stream of cash, invoice financing can help a construction company avoid delays and potentially liquidated damages caused by lack of funding. Hubble.Financial helps to save paper waste by going digital, all the way from application until funding.
Furthermore, invoice factoring can also assist construction businesses in saving on materials costs. By providing immediate payment for invoices, businesses can negotiate better prices with suppliers and vendors, resulting in significant cost savings.

Reducing waste is not only the most imperative way to stay cost-effective and sustainable, but it could very well be the only way to remain competitive and beat inflation moving forward in the construction market. Don't let high construction materials costs and waste eat into your profits - turn to Hubble for a cost-efficient solution. Contact us today to learn more.